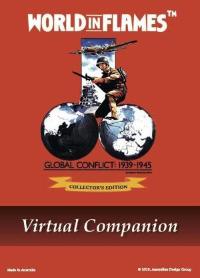 World in Flames Collector's Edition Virtual companion
In 1985 Australian Design Group launched what would become the definitive international award winning game of World War II, World in Flames. Now after 34 years we are giving you the greatest strategy game ever.
If you are interested in buying the World in Flames Collector's edition Deluxe game please go here, or for the Classic game please go here. They also provide many details about the game.
This page is if you wish to buy the World in Flames Collector's edition Virtual companion our latest edition to the World in Flames world.
*************************
The World in Flames Collector's edition Virtual companion includes all the text, graphics and research files involved in this 35 year tour de force. As its name implies it is not a physical product but instead a licence to download all these files for 2 years from the date of purchase. It will be regularly updated with extra modules as they are added (eg updated rules, the Collector's edition Scandinavian map etc). After the 2 years, yearly licence extensions will be available for Australian$19.95.
The release files are:
WiFCE covers - 16 files

WiF CE Maps - 7 files
WiFCE counters - 59 files
WiFCE Rules and charts - 22 files
WiFCE research and analysis - 17 files (6 Feb 2019: 22 files).
For a grand total of 121 files All graphic files are crisp full-colour high-definition (300 dpi) jpegs. All text and data files are either pdf, xl or word format.
The research and analysis files include (amongst many other files) technical and production data on every combat aircraft and ship (light cruiser and above) that fought or was planned for World War II.
The Light cruiser technical handbook is 84 pages in length, the CV, BB and CA technical handbook is 98 pages, and the combat aircraft Technical and Production Handbook an amazing 280 pages in length. It alone contains technical and production details on 818 aircraft with data not available anywhere else in the world (eg German and Japanese production record keeping became very sloppy late in the war and many of the figures were recovered using statistical analysis techniques).
If you have any interest in WWII combat aircraft and ships and want to know any important details about them, for the first time ever these handbooks have that  all in one convenient location.
After purchase, ADG will email you with the links and passwords to commence your licence.
*************************
Update 5 February 2020
There are now a total of 160 files included in the WIFCE Virtual companion. You can download the complete contents list as of 5 Feb 2020 here.
*************************
The World in Flames Collector's edition Virtual companion is available now.