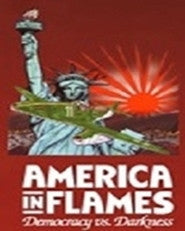 America in Flames Update
Description
It is 1945. The iron fist of Fascism lies sprawled across the Globe. Asia and Europe are in ashes, their beautiful cities destroyed. You are all that stands between Democracy and darkness. And they are coming........
You are not totally defenceless, and your scientists are feverishly developing a weapon of unimaginable power. Can you defend the Western Hemisphere or at least the land of the free and the home of the brave long enough to give your scientists that precious commodity they need most, time. The fate of the free world is in your hands.
America in Flames is a complete game. It allows 2-5 players to fight for control of the Americas. Germany, Italy and Japan must attempt the largest invasion in history. Pitted against them are the USA and the remnants of the Commonwealth, both desperately attempting to turn back the swelling tide of fascism.
The theatre of action is North and South America, and one of your many tasks is to woo the neutral minor countries onto your side to help overthrow the enemy. 840 counters and 2 large maps give you everything you need to re-fight the greatest war that never happened.
Can you save the World?
America in Flames update kit
includes:
2 large (840 x 594mm) full-colour paper maps of the Americas,
840 half-inch full-colour counters (CS 26-28),
America in Flames Rulebook, and
2 x World in Flames Collector's edition full-colour Combat charts.
Pls note: If you don't own World in Flames, you will need to download the latest World in Flames rules from the downloads section of our site.