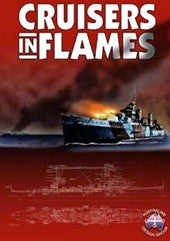 Cruisers in Flames
Description
Cruisers in Flames is Australian Design Group's World in Flames naval expansion that includes every light cruiser (CL) and anti aircraft cruiser (CLAA) of World War II. Now at last you can re-fight the Battle of the River Plate, Cape Spada and myriad other cruiser actions.
Crusiers in Flames also includes minor country convoys and additional major power convoys and tankers allowing you to refight the Battle of the Atlantic and the Battle of the Pacific as it was meant to be fought.
Cruisers in Flames includes 400 counters, rules and charts.
Pls note: this is not a complete game. Cruisers in Flames requires World in Flames in order to be played.