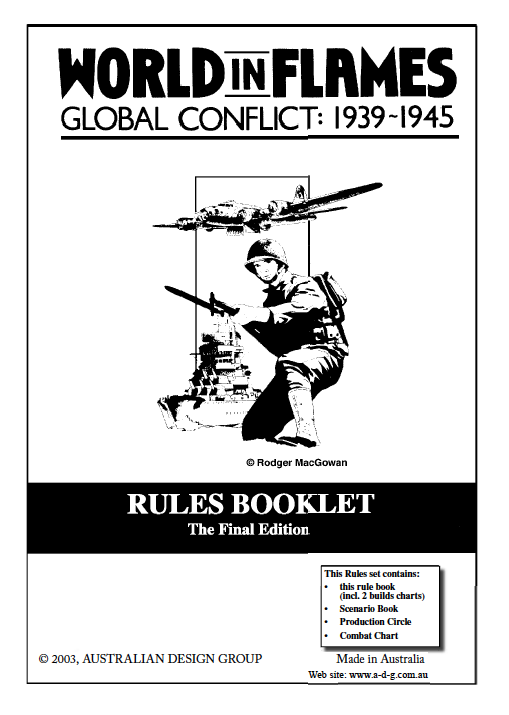 WiF7 Deluxe Rules and Charts set
Note: This is not the collector's edition, it is the 7th edition.
Description
World in Flames is Australian Design Group's international award winning game and has been one of the best selling wargames over the last 25 years.
The WiF Deluxe Rules and Charts Set provides you with the latest greatest World in Flames experience. The rules are the synthesis of 2 million playing hours incorporating all the revisions and errata from around the world as well as a dozen new optional rules to add spice to your next game of World in Flames.
It also contains the rules from America in Flames, Patton in Flames, Africa Aflame, Asia Aflame, Ships in Flames, Planes in Flames, Mech in Flames, Leaders in Flames, Carrier Planes in Flames, Politics in Flames, Cruisers in Flames and Convoys in Flames to make World in Flames the most comprehensive, enjoyable and accessible game ever.
The WiF scenario booklet contains set ups for 2 scenarios, 2 single map campaigns and 7 all map campaigns including the brand new Misssed the Bus: World War 1940~45 grand campaign game.
The  World in Flames Deluxe Rules Set consists of:
• the  World in Flames rule book (incl. 2 x A4 builds charts);
• WiF Scenarios book (sections 24-30 of the rules including scenario and campaign set ups);
• 1 production circle; and
• 1 x A3 (420 x 294mm) full-colour game chart.