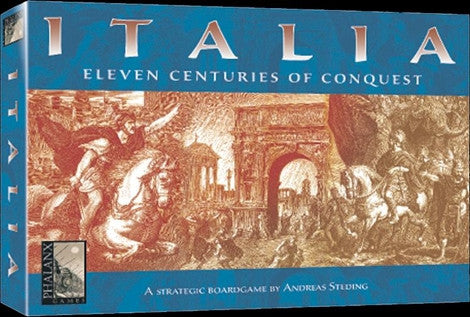 Italia
Description
Italia
Eleven Centuries of Conquest
Topic
Italia brings to life almost 1100 years of Italian history, from 330 BC to 1100 AD. During this time numerous tribes, nations and empires invaded the Italian peninsula. Most of these tribes were trying to settle down and to displace, conquer or submit the ruling nations or classes. However, the new rulers could not hold their power for long: they were, in turn, defeated by other invaders.
Game
Italia consists of two different games: Italia I is a three player game simulating the history of ancient Italy until 80 BC, i.e., the rise of the Roman Empire. Italia II is a four player game which sets off at the fall of the (West) Roman Empire in 390 AD and simulates the medieval history of Italy until 820 AD.
Each player in either version of Italia does not control just one nation but usually many different ones. These nations appear, try to play their part as best as possible and vanish again in the dust of history.
Contents
Italia contains 1 large game board, 624 game pieces, 30 nation cards, 2 player aid cards, 6 dice, 2 note pads, and 1 rules booklet.
Players: 3 - 4 Playtime: 180 minutes From age: 12
Author: Andreas Steding Illustrator: Craig Grando